Twitter poll conducted by SaharaReporters has shown that a majority of Nigerians on twitter would not to vote for either President Muhammadu Buhari or former Vice President Atiku Abubakar if the presidential election was held today.

The result of the poll indicated that Nigerians prefer another man/woman for the country's top job.
Respondents wondered if we must always have the same set of people, who failed the country, running the government every time.
READ ALSO
Atiku Hints at 2019 Presidential Run
Of the 20,253 participants in the poll, 45 per cent rejected the President and the former Vice President, ticking "none of the above". 43% percent of the votes, however, went to President Buhari, while Atiku gathered 12 per cent, reducing the former Vice President to something of a distant third in a two-horse race.
Respondents weighed in with diverse views on their preferences.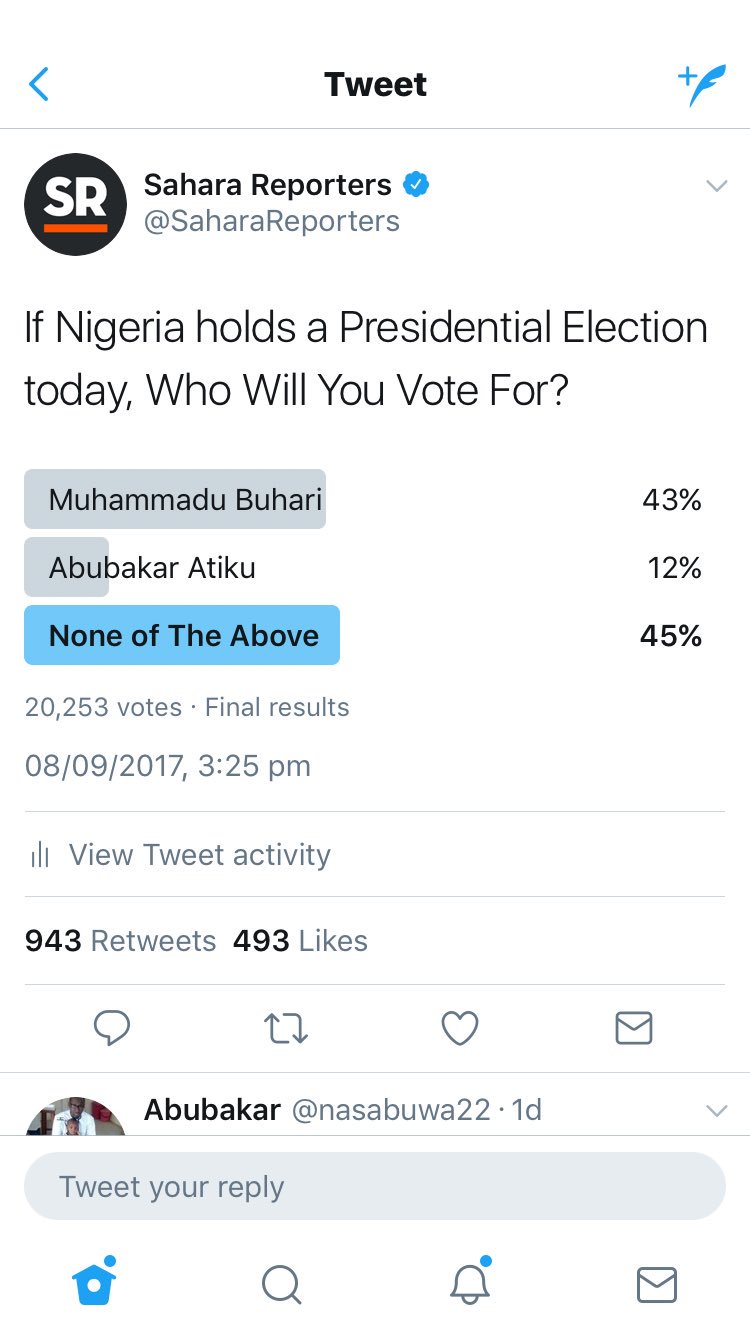 POLL: Final results of the Presidential Election three way poll between candidates @MBuhari, @atiku and candidate "None of The Above" pic.twitter.com/pAXxi8iX1I

— Sahara Reporters (@SaharaReporters) September 9, 2017

Some were acerbic, others funny and some dragging in the names of Mr. Nnamdi Kanu, leader of the Indigenous People of Biafra (IPOB)and Mr. Ayodele Fayose, governor of Ekiti State. A respondent, Chuma Akuntasi, tweeted: "Anyone that votes for Buhari is a cow and bastard."
If Nigeria holds a Presidential Election today, Who Will You Vote For?

— Sahara Reporters (@SaharaReporters) September 8, 2017
Another, tweeting as @obatofera, responded with "No more aboki (Northern) president.